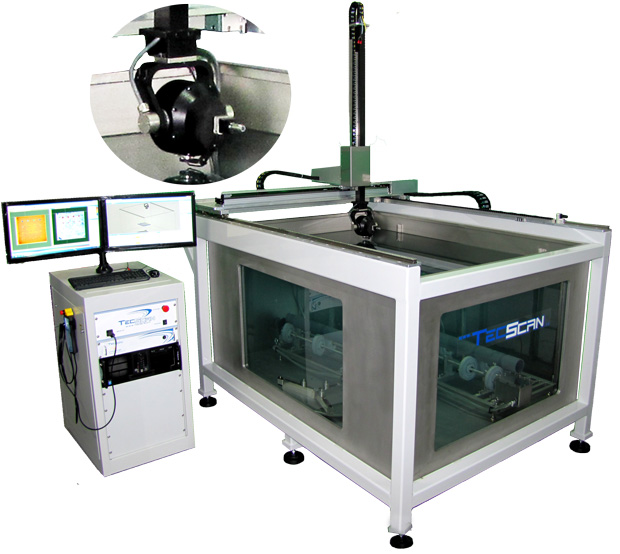 Ultrasonic Testing Tanks & Systems
TecScan provides fully automated Immersion Ultrasonic Testing Systems for effective inspection of your products and components. Our systems range from small tanks for laboratory immersion ultrasonic testing to large multi-axis industrial ultrasonic immersion systems & squirter gantry systems. With our systems you can perform manual immersion ultrasonic testing or advanced and automated immersion ultrasonic testing with contour following or full 3D inspection for your complex components. Single element or Phased Array ultrasonic transducers can be used on all our immersion systems and tanks. TecScan also offers specialized non-destructive immersion ultrasonic testing systems for MRO (Maintenance, Repair, and Overhaul) of aerospace components and structures, as well as for the testing of power generation and industrial applications components.
Our immersion ultrasonic testing systems are used for detection of flaws in metallic and composite materials. Ultrasonic C-scan and tomography are achieved using these automated ultrasonic testing systems by raster scanning the inspected samples with appropriate ultrasonic transducers.
Immersion Ultrasonic Testing Systems
Three Series of Immersion Ultrasonic Testing Systems are available: TS, TC and Scan3D™. The TS Immersion Systems Series have standard tank sizes designed for laboratory & simple component testing, while the TC Immersion Systems Series are designed with heavy-duty structures and tanks for large scanning envelopes. These systems can be custom designed and built to suit the clients' non-destructive testing needs. The Scan3D™ series are High-Precision Systems designed for automated 2D/3D ultrasonic immersion testing of complex aerospace and industrial parts.
Immersion Ultrasonic Testing systems for your NDT applications !
Fully automated systems with TecView™ software for simple & advanced 3D testing.