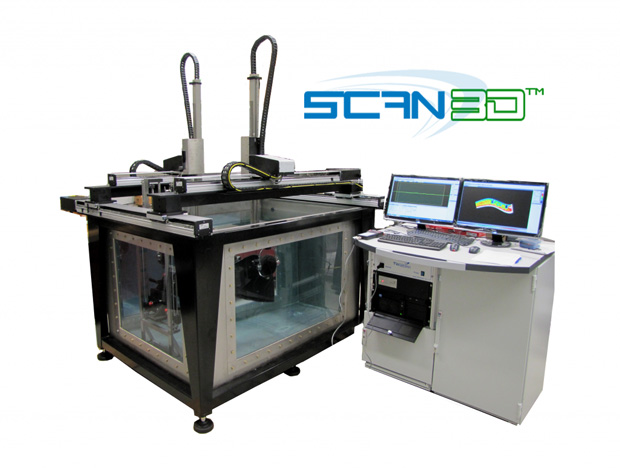 High-Performance Immersion Scanners
The Scan3D™ series are high-performance immersion scanning systems which are designed for demanding non-destructive ultrasonic testing applications. This line of automated immersion systems is carefully designed for high scanning speeds and inspection of complex components used in aerospace and industrial applications.
Combined with our state of the art 3D motion control system and data acquisition software TecView™3D, and our Gimbal/Gimbal ultrasonic probe manipulator, the Scan3D™ solution revolutionizes the ultrasonic immersion inspection process. With the Scan3D™ ultrasonic testing solution, scan plans of inspected parts are directly defined from CAD files, and the automated ultrasonic C-Scan tests are performed in Through-Transmission and Pulse-Echo. The ultrasonic C-Scan test results are also displayed on imported 3D model for non-destructive analysis.
Scanning systems loaded with TecView™ 3D software !
High-Precision Immersion Tanks for complex parts inspection.
Scan3D™ system with unmatched scanning features
The Scan3D™ ultrasonic immersion testing solution allows you to perform ultrasonic tests with advanced scanner contour following features and arbitrary probe motion around the shape of any curved part. The capabilities of this ultrasonic immersion C-Scan system are numerous; users can combine the automated teach and learn with the imported 3D CAD drawings of the part to generate scan plans and perform non-destructive ultrasonic testing with complex 3D contour following.
With its added capabilities in term of complex 3D motion control, interactive inspection planning and variety of analysis tools, the Scan3D™ has unmatched scanning features. Complex ultrasonic inspections can be performed quickly and easily. For part import, standardized 3D step file format is used. Once CAD geometry is imported, the Scan3D™ immersion scanner associates the part surfaces to the appropriate scanner axes and creates a parametric space that defines probe motion along the surface.
Our advanced NDT software TecView™3D also provides Sound Path Calculation capabilities. This powerful module is very useful when combined with teach and learn process. It can calculate the entry and exit points of the ultrasonic waves to ensure an optimal sound transmission and reception.
Example of 3D Ultrasonic Inspection of Jet Engine Carbon Fiber Composite Fan Blades
Main Features

Contour-following 2.5D & 3D
Interactive tools for part entry
Synchronized motion/axes
Coordinated motion
Probe & beam calibration
Part creation from CAD files
Simultaneous PE & TT
Results display on 3D parts
Typical Scanner Specifications
Main Features
| Axis Description | Strokes* | Max speed | Accuracy | Resolution | Repeatability |
| --- | --- | --- | --- | --- | --- |
| Longitudinal (bridge) X | 430 mm | 200 mm/sec | +/-0.33 mm/m | 0.002 mm | +/- 0.1 mm |
| Carriage Y | 1.3 m | 200 mm/sec | +/-0.33 mm/m | 0.002 mm | +/- 0.1 mm |
| Vertical Z | 800 mm | 200 mm/sec | +/- 0.83 mm/m | 0.001 mm | +/- 0.1 mm |
| Gimbal A | +/- 135° | 45°/sec | +/- 0.5° | 0.001° | +/- 0.1° |
| Gimbal B | +/- 90° | 45°/sec | +/- 0.5° | 0.001° | +/- 0.1° |
*These specifications may vary according to clients requirements.
Related Videos
Fan Blade Inspection