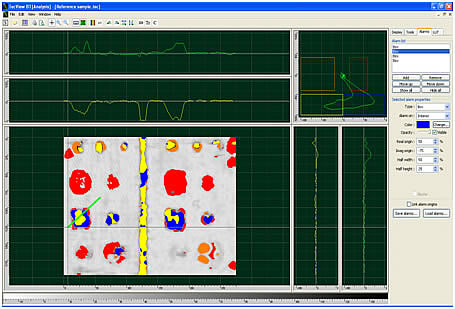 TecView™ BT is a true Windows® based software designed for non-destructive Bond Testing inspections, from data Acquisition to data Analysis. It is designed for inspection of bond quality of aerospace composite materials. With its intuitive interface, the TecView BT automates the process of bond testing. It records the output signal of a bond testing instrument and provides C-Scan imaging capabilities, which would allow more intuitive and accurate analysis possibilities in terms of defect detection, sizing and positioning. C-Scan imaging can provide useful additional data that can complement the results of specialized non-destructive bond testing. In addition, C-scan imaging provides an intuitive representation of the inspection data that allows recognizing geometrical patterns within multiple readings.
TecView™ BT automates the process of bond testing !
Performs resonance and mechanical impedance analysis
TecView BT ACQUISITION
TecView™ BT ACQUISITION is designed to handle the whole inspection process and could perform resonance and mechanical impedance analysis. This Module aids the user in the setup of all scanning parameters and includes an impedance plot section where different types of alarms can be set at once. Once all the parameters are set and the scan is started, the C-Scan, impedance plot and triggered alarms are displayed in Real-Time. A side ruler can be displayed in either Metric or Imperial systems on all data displays.
TecView BT Analysis
The Analysis module enables the user to analyze the Bond Testing Data once it is tagged and stored. Various C-Scan representations can be displayed based on different amplitude and phase combinations. TecView™ BT makes it easy to display relevant Impedance plots and triggered alarms by the simple movement of the cursor along a C-Scan section
Software Features:
Imaging and Analysis module
Real-time impedance and C-Scan display
Resonance and MIA modes
Live Alarms utilities
Post-processing re-nulling and rotations
Impedance components C-Scan imaging (amplitude, phase, etc.)
Alarm based C-Scan imaging
3D projection for better illustration of defects
Reporting capabilities
Intuitive user-interface & menu
The automated bond testing solution consists of Automated Scanner, TecView™ BT, PC workstation & bond testing instrument
Typical Scanner Specifications
Scan Resolution
0.0005″/Step (0.0127mm/Step)
Index Resolution
0.005″/Index (0.127mm/Index)
Scanner Speed
(X & Y Axes)
10″/Sec (254mm/Sec)
Scanning Rate
5KHz
Minimum Curvature Radius
14″ (350mm)
TecView™ BT specifications
Complete multi-tasking software
Windows® based user-friendly interface
Logon screen with administrator access and limited user accounts
Full control of hardware settings, scanner motion and data acquisition
Full impedance plot recording
Independent Inspection and Analysis modules
Inspection and data analysis can be done concurrently
Motion control of 3 axes
Scan pause and resume option
Home and re-scan capabilities
Real-time impedance components and C-Scans
Absolute amplitude display, H-component, V-component & phase angle

Multiple C-Scan and Strip Chart representations
C-Scan enhancement utilities
Alarm selection
Image processing utilities
Reporting capabilities
Annotations tools
Zooming capabilities
Lookup table, linear, logarithmic or scaled
Custom reporting capabilities
Imperial and metric units
* the scanner includes all motor drives and required electronic components, wiring and cables.
PC Workstation
Industrial rugged laptop
2 Channels, 12/14 bit High Speed Digitizer
Bond Testers compatibility
BondMaster from Olympus
Bondascope 3100
Bond testers from other Manufacturer
*These specifications may vary according to clients requirements.