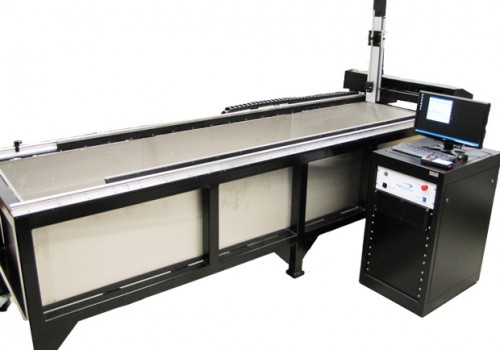 Our TC series are custom immersion scanning systems designed for non-destructive ultrasonic testing applications. They represent turnkey and modular solutions which consist of a heavy-duty mechanical structure, a system workstation unit housing all required electronics, and an advanced ultrasonic pulser/receiver unit. Their mechanical assembly is made of welded steel tube structure and a heavy duty stainless steel tank with acrylic windows. The TC systems come in a variety of dimensions and they are fully custom designed to suit clients' needs and requirements.
The TC systems are completely automated and controlled by our TecView™ UT software package, which handles the whole NDT process, from motion control all the way to data acquisition and analysis.
TC models with custom immersion tank sizes !
Immersion scanning systems for aerospace & industrial applications.
TecScan Custom Immersion Systems
Developed for the inspection of large and complex components & parts, TC scanners are designed to meet and exceed the non-destructive testing requirements of aerospace and industrial sectors. The configurations of the TC systems range from 3 automated X-Y-Z-axis, to 11 fully automated axes with dual bridge and two G,G (Gimbal/Gimbal) assemblies. Such configuration is suitable for scanning curved surfaces with TecView™ contour following option.
PHASED ARRAY IMMERSION SCANNING SYSTEMS
TecScan's advanced Ultrasonic Phased Array Immersion Scanners are designed to meet and exceed the non-destructive testing requirements of the aerospace industry. By combining the ultrasonic wave focusing and multiplexing capabilities of Phased Arrays technology with the accuracy of our immersion tanks and scanners, an advanced, complete and powerful ultrasonic immersion testing solution is created. Whether your application requires rapid coverage of parts with large areas, inspection solutions for complex geometries or increased ultrasonic penetration, TecScan's ultrasonic Phased Array Immersion tanks and scanners will meet your challenge. This non-destructive turnkey solution consists of one of TecScan's ultrasonic immersion scanners, an ultrasonic Phased Array instrument and transducer probe, as well as TecView™ software suite for motion control and ultrasonic data acquisition, management and analysis.
Main Features:
Heavy-duty stainless steel with Acrylic windows
Welded steel structure
High speed UT scanning
High motion resolution and accuracy
Motion control up to 12 axes
Windows based, multi-tasking software TecView™ UT
Full waveform digitalization
Real-time A, B and C-Scans
High quality encoders and DC servo motors
Linear amplifiers that minimize the noise interfering with UT signals
Hardware for Pulse on Position scanning
Home switches for high position repeatability
Typical Scanner Specifications
| Axis | Max Speed | Accuracy | Resolution | Backlash | Repeatability |
| --- | --- | --- | --- | --- | --- |
| X | 8-24″/Sec | ±0.01 "/ft | 0.00006″/Step | 0.006″ | 0.004″ |
| Y | 6-18″/Sec | ±0.01″/ft | 0.00006″/Step | 0.006″ | 0.004″ |
| Z | 6-12″/Sec | ±0.01 "/ft | 0.00004″/Step | 0.006″ | 0.004″ |
*These specifications may vary according to clients requirements.