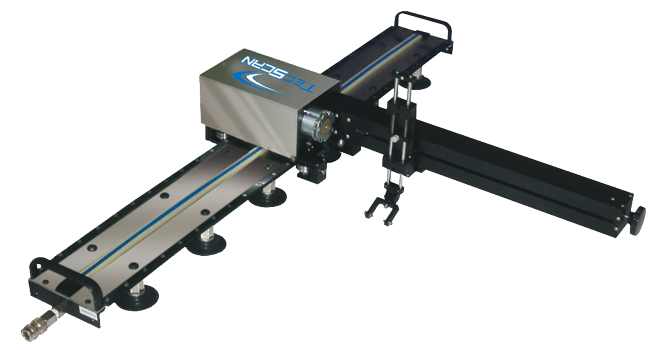 We provide portable and flexible non-destructive testing (NDT) scanners, which are designed for laboratory and site inspection solutions. Our Automated Robotic Mechanical Arm for Non-destructive Assessment (ARMANDA) represents an X-Y scanner which is specifically designed for the non-destructive assessment of metallic and composite structures.
It can be used for Ultrasonic, Eddy Current and Time-of-Flight- Diffraction inspections. The scanner can be easily disassembled and stored in the provided transportation box for site inspections.
Portable & Automated NDT Scanner !
Scanners designed for non-destructive testing of military and civilian aircrafts.
Fully Automated X-Y Scanner
TecScan's ARMANDA scanner is a light weight portable X-Y scanner designed for automated NDT inspections. It could be mounted on a flexible rail fixture allowing for horizontal or vertical scans and for contoured or edged surfaces. This automated X-Y scanner is equipped with a spring loaded Z-axis designed to provide rapid and accurate transducer positioning while following contoured surfaces. This scanner is designed for NDT inspection on both civilian and military aircrafts. It can also be used in a laboratory environment for the evaluation of steel, aluminum and various composite materials.
TecView™ Motion Control & Data acquisition software
When combined with TecView™ software and an industrial lunchbox computer, the ARMANDA becomes a fully integrated non-destructive testing solution.
ARMANDA's major applications are:
Flaw Sizing
Weld Inspections
Corrosion Mapping
Metallic Structures
Composite Structures
Rapid inspection of large or inaccessible areas
ARMANDA main fearures
Fully Automated Data Acquisition Scanner
Compatible with multiple NDT technologies: UT, EC, BT and TOFD
A complete integrated solution
Automated Scanner
TecView™ acquisition and analysis
Software package
Portable workstation
Travel case
Typical Scanner Specifications
Scan Resolution
0.0005″/Step (0.0127mm/Step)
Index Resolution
0.005″/Index (0.127mm/Index)
Scanner Speed
(X & Y Axes)
10″/Sec (254mm/Sec)
Scanning Rate
5KHz
Minimum Curvature Radius
14″ (350mm)
*These specifications may vary according to clients requirements.
Related Videos
ARMANDA Scanner