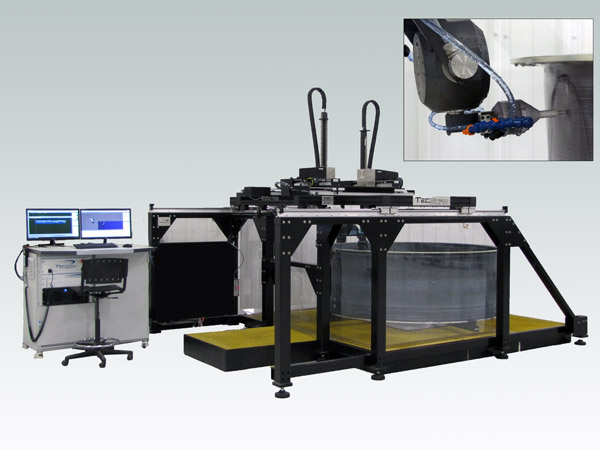 Ultrasonic Gantry/Squirter Solution for the Evaluation of Jet Engines Composite Fan Casings
The next generation of jet engines designed for medium-haul airliners are composites-intensive designs. The engine components such as the fan blades and fan casings are constructed from composite materials. Because of safety and reliability requirements, these composites components must be inspected for any manufacturing anomalies/defects.
TecScan has developed a new Gantry  Squirter design for inspection of jet engine fan case structures. The fan case gantry solution is based on TecSan's unique Scan3D™ technology, which is designed for High-Precision Ultrasonic scanning.  The Gantry System is composed of 11-axes Mechanical Scanner and a desk Control Workstation. The Mechanical Scanner represents a large industrial Cartesian coordinate robot with two mirrored sets of X-Y-Z axes equipped with Gimbal/Gimbal assemblies, and a turntable axis able to rotate large fan cases.  The Control Station is equipped with a 3D motion controller, amplifiers and our proprietary TecView™ 3D software. With its advanced motion control capabilities, the Gantry scanner can perform high resolution through transmission ultrasonic inspections of the composite fan cases at linear speeds above 900 mm/s with the emitting and receiving probes following the inner and outer curvature of the fan case.
A simple manual teaching procedure that utilizes pulse-echo ultrasound data is used to map the 3D shape of the fan case. Only two scans are required to inspect the entire volume of a fan case (barrel and flanges). A fan case with diameter around 2000 mm can be inspected in less than one hour for delaminations and/or porosity clusters down to diameters of 6 mm.
The system produces A-Scan, B-Scan and C-Scan images of the inspected structure. The final C-Scan results are then mapped on 3D volume CAD of fan case for easier analysis. Defect sizing and reporting tools are also available for 2D and 3D scanning results.
 System characteristics & performances:
 Two independent Cartesian axes sets with high precision gimbal/gimbals for full 3D scanning
Computer controlled and operated by TecViewTM 3D
High-speed inspections on 3D surfaces (linear speed above 875 mm/s)
Through-Transmission
Scanning motion profile created from manual teaching of curvature
Easy interpretation of results (3D display)
Adapted defect sizing tools for curved surfaces