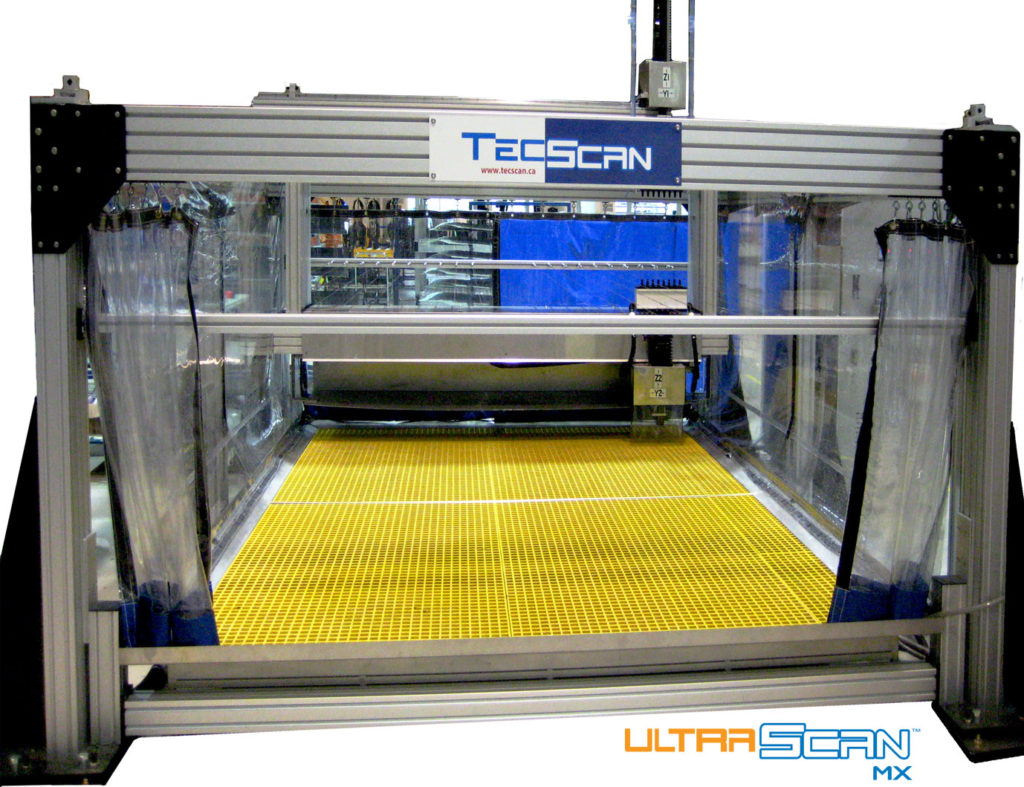 Ultrasonic Flatbed Systems
UltraScan Mx represents a Flatbed Squirter System for Ultrasonic Testing (UT) of Large Aerospace Composite Panels. With the increase in demand for composite components in the aerospace industry, inspection time is becoming a critical factor in overall production rates. TecScan's flatbed scanners are designed for high throughput inspection of composite panels and components.
With a customizable bed size, the UltraScan is built with an industrial aluminium profile structure and uses ultrasonic or phased array technology. This modular concept allows for the modification of the scanner size as needs change. Our standard configuration is a 5 axis system (X, Y, Y2, Z, Z2) with an inspection envelop of 3.5 x 2.5m and a specially designed water delivery system that provides a stable and repeatable UT signal.
An efficient way to maximize the inspection of your parts !
With multi-channel scanning technology and multiple ultrasonic probes.
Ultrasonic Flatbed Systems
Our Flatbed Systems offer an efficient way to maximize the scanning rate. They minimize the amount of indexes using multi-channel scanning technology with multiple ultrasonic probes integrated in a specially designed water-box system. Instead of moving a single pair of probes across the surface of the parts, arrays of probes are used in pairs to scan across the inspected panel, the elements of the emitting array being fired simultaneously or one after the other.
The water-box is specially designed to create 8 laminar water jet with equal flow rates. To address different inspection needs, nozzles aperture diameter can easily be interchanged. The format of the probes being used are standard immersion probes for easy and inexpensive sourcing.
The Flatbed system allows you to automatically and carefully align the water-boxes with the scanner's Cartesian axes providing constant ultrasonic signals. A software tools is also provided with the system to normalize the gain variation of the ultrasonic probes.
TecView™ for multichannel UT applications
TecView™ UT represents a fast data acquisition software designed for Real-time C-Scan Imaging. The software aids the user to setup the inspection parameters and it incorporates different modules including Data Acquisition and Management, robotic control, imaging and Data Analysis and Interpretation.
Simple system operation
Software with intuitive user interface & capability of processing of multi-scans
Full digitized waveform capture with Real-time A, B and C-Scans
Scanner Homing and auto-calibration capabilities
Reproducible defect detection with high speed scanning and motion resolution
High speed UT scanning
High motion resolution and accuracy
Full motion control up to 12 axes
Windows based, multi-tasking software TecView™ UT
Full waveform digitization
Real-time A, B and C-Scans
Advanced imaging & waveform processing utilities
Tools for flaw sizing and locating
Inspection setup recall
Advanced reporting capabilities with customizable reports
Imperial and metric units
High quality encoders and DC servo motors
Linear amplifiers that minimize the noise interfering with UT signals
Hardware for Pulse on Position scanning
Home switches for high position repeatability
C-Scan gating capabilities (up to 16)
DAC curves, TCG & BEA controls
Defect measurement and analysis tools
Typical Scanner Specifications:
| | |
| --- | --- |
| Scanning speed | Up to 600 mm/sec |
| UT Channels | Up to 32 |
| Inspection rate (1m2) | 5 min (w/ 8 channels @ 1 mm resolution) |
*These specifications may vary according to clients requirements.
Related Videos
Ultrasonic Flatbed System: