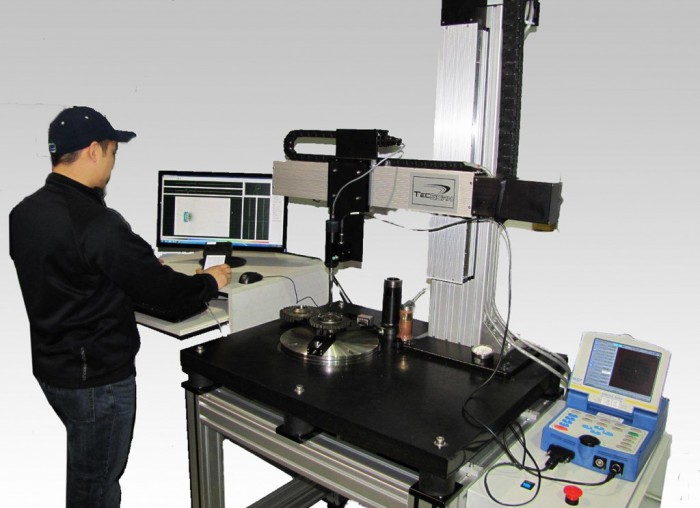 Aircraft Components Inspection
Nondestructive testing (NDT) of aircraft engine components involves scanning of complex and diverse geometries. Automated robotic systems with NDT technology represent appropriate combination to control the quality and test such complex aerospace components for anomalies and defects. TecScan has successfully designed and delivered an advanced automated Eddy Current Bearing Inspection Solution (BIS) for some aircraft components inspection such as Ball Bearing Raceways, Roller Bearings Raceways, Needle Bearing cages and Inner Grooves.
TecScan's BIS is currently used to inspect aircraft bearings under the requirements of GE, Rolls Royce, Honeywell, Pratt & Whitney, Bell Helicopter and Boeing
TecScan's BIS standard system configuration consists of 4 axis scanner (X, Y, Gimbal and Turntable) for the inspection of bearings having 36" maximum diameter; other configurations can also be custom designed as per client's requirements. BIS is fully adapted to the repetitive inspection of production parts. For example, once the setup is performed and validated on a Master bearing, identical parts can be easily inspected with minimal intervention from the inspector.
The BIS includes all required electronics housed in an industrial enclosure, a workstation, as well as an external eddy current instrument that is completely integrated to our TecViewTM EC software package. It has features that enable the user to set multiple alarms, record and playback each individual strip chart or C-Scans. Complete inspection reports are automatically generated with the recorded data for traceability of each inspected sample/bearing.