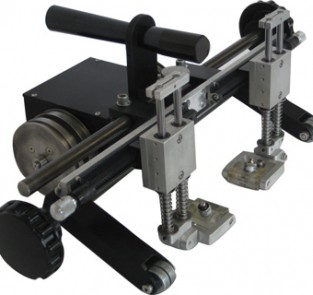 TecScan offers a dual axis manual scanner specifically designed for Time of Flight Diffraction (TOFD) applications. This Manual TOFD Scanner was designed to perform encoded TOFD inspections parallel (X) and perpendicular (Y) to the weld orientation, with indexing capabilities on the Y axis. With the ability to move the probe assembly on both axes, and move the individual probes apart with the simple turn of an adjustment knob, this manual scanner makes TOFD adjustments simple. Pipe Scanner configuration for inspection of welds is also available.
Two axis scanner designed for TOFD welds inspections.
Operates with TecView™ TOFD Software package !
Manual TOFD Scanners
Whether you are inspecting pressure vessels, plates or pipes, TecScan's TOFD scanning systems will meet all your inspection requirements. The system consists of the scanner, portable computer for field work and low noise ultrasonic instrumentation. At the heart of the system is a user friendly software package, TecView™ TOFD, which will assist you in performing all your TOFD inspections.
Pipe Scanner configuration also available
Pipe scanner are also available for encoded TOFD inspection of welds. They consist of dual axis configurations and designed to be linked to the pipe using a standard welding guide rings or a metallic chain.
Features & Advantages
Encoded TOFD inspections parallel (X) and perpendicular (Y)
Ability to move the probe assembly on both axes and simple probe adjustments
Indexing capabilities on the linear axes
Carriage runs on standard welding guide rings
Easy clamping device allows for quick and stable mounting on the guide ring
Magnetic and rubber wheels
Control knobs for independent probe position adjustments
Handle on the carriage for easy system manipulation
Spring loaded probe supports to ensure constant contact with the inspected surface
Carriage can run more than 360o around the inspected pipe
Scan resolution 0.0006"/step
Complete multi-tasking software
Automated scanner also available for welding
Typical Pipe Scanner Specifications
Resolution: 0.01 mm/step
Configurable for flat to 3" curvature radius
Automated scanners also available
Accessories
60°L TOFD wedge pair (other angles available)
10 MHz (6 mm diameter) transducer pair (other frequencies available)
Water pump system (optional)
Related Videos
Side-Arms ultrasonic Squirter Gantry System: